Discover more from Bankless Publishing
Educational web3 content.
Over 20,000 subscribers
Season 3 Recap | BanklessDAO Weekly Rollup
Catch Up With What Happened This Week in BanklessDAO
Dear Bankless Nation, 🏴
The halls of Discord were quieter this week; BanklessDAO's first official gap week is an opportunity to recharge in preparation for an epic Season 4. In that spirit, the Weekly Rollup is publishing a condensed version, containing only the Season 3 recap.
Please take time to review this recap, as you'll be amazed by the things the DAO accomplished during these bearish few months. In fact, looking at the new projects and opportunities that fired up within BanklessDAO during Season 3, you could conclude there was no bear market at all.
This gap week reminded some of us that the people we work with in this DAO are like family, and many of us can't wait to get back to 'work' to continue to build opportunities and friendships. Reflect on what you want to accomplish next season, whether it be to contribute more to a project or guild, create your own project through a funding proposal, or just spend more time vibing with our fellow contributors. For many of us, the answer may be all three.
Regardless, those from the Newsletter Team wish you all the very best, and we want to give thanks for each and every one of you — for not only what you give to the DAO, but to each other. See you next week frens.
Contributors: teeLEROO, siddhearta, hirokennelly.eth, Dippudo
---
---
This is the official newsletter of BanklessDAO. To unsubscribe, edit your settings.
---
🙏 Sponsored by CitaDAO
---
Season 3 Recap
Author: teeLEROO
Borrowing a metaphor from Above Average Joe's interview on BanklessDAO's Making Bank podcast, the DAO is our baby and the little fella is teething — expect more disruptive behavior in the future. But in this space, disruption is good for opportunity and growth!
Season 3 saw increased parenting demands as our growing DAO went through an awkward phase. It's a challenge we embraced, knowing what survived the bear market would be the foundation for our future success. And even though we faced many challenges in Season 3, we accomplished so much. Be proud my frens - we not only persevered, we built. Season 4, here we come!
Doubling Down on Governance 
Clarifying Quorum
Quorum is the mechanism that adds legitimacy to bDAO decision-making by requiring a minimum number of BANK to have been cast in a given vote. When we operated without a quorum, a simple majority was needed for a vote to pass. This meant that proposals could be enacted without being properly vetted by members. The solution was to establish a quorum.
The problem with the quorum we set at the end of Season 2 was that it was set so high that the requirement of 36.83M BANK was reached only once after enactment. The response was a proposal to remove the quorum requirement. The Remove the Quorum proposal was the only vote to have met the quorum requirement with over 48M BANK. We can expect a new quorum proposal in the future.
Governance Solutions Engineers (GSEs)
The DAO went through growing pains in Season 3, as the governance framework implemented at inception was no longer fit for the new challenges faced by the DAO. Operationally, there were problems related to contributor alignment and strategic prioritization. The bandwidth of the average member was not enough to properly engage with bDAO issues normally addressed by governance.
The solution was to elect five talented individuals – the Governance Solution Engineers – to tackle the problems related to our challenges with scaling up. We elected ManuelMaccou, Above Average Joe, Rotorless, Saulthorin, and 0xJustice.eth. They will be hard at work solving governance problems arising within our growing organization. Keep an eye out for working groups to harness the talent within the DAO.
Tokenomics
Stephen Xi's bDAO Investment Report identified us as a first-mover with a widely held token enjoying a strong reputation that belies our age. Many positive signals emerged from the report, including an analysis of our market cap which identified it as being understated. Our active community creates massive upside potential; it's impossible to imagine the scope of existing projects and future ones because we've only just begun. 
BANK fell in value at the start of Season 3, but has since recovered from that low. The tokenomics team has been working on the problem of how to increase the utility and demand for our native token, as a strong token gives value to our treasury and to BANK holders.
Utility is increased by making our token more user friendly. We are working on the goal of reducing the fees typically incurred on mainnet. For example, we are considering migrating operations to Polygon, following the lead of Bankless Consulting and Bankless Brasil who have moved their multi-sigs over to save on gas fees. 
In addition to tackling the issue of high gas fees, we're connecting with other protocols to explore use cases of BANK. The Balancer pool is still active, where deposits of 20% BANK/80% ETH are rewarded with BAL. Another option for those with both ETH and BANK was the introduction of bonding on Olympus Pro. 
All DAO-owned liquidity was migrated to Uniswap V3, securing a space for anyone that wants to provide liquidity for the BANK token. This was aided by the Gelato G-Uni Pool launched by bDAO, reducing fees incurred on Uniswap V3.
Most recently, Rari Capital introduced its new DeFi instrument The Bank Vault. The attraction is in depositing BANK as collateral and borrowing against it. The additional benefit to the DAO is that it generates revenue through fees, not to mention that governance tokens locked up can still be used for voting.
BanklessDAO Revenue
Our capacity to generate revenue is increasing as existing projects gain more traction and new projects emerge from within the DAO. 
Sales revenue from the weekly NFT Showcase has been a mainstay; artists within our community continue to create value and build the stories that situate bDAO in a future that we believe in. The bDAO treasury collects a percentage of all NFT sales, and in Season 3 we took in just over 12 ETH from sales.
The same can be said on the merchandise front with Metafactory and Ultrasound Merch. Value accrues to our treasury as members create bDAO-inspired wares, while the greater benefit is tied to artifacts that tell our story and describe our mission. 
Bankless Consulting was this season's revenue success story, boasting tens of thousands of dollars from projects on the go. Their lofty goal was to be the world's first Web3-native consulting firm, and they are living up to that vision by both landing clients and navigating the uncharted territory. The Bankless banner is in good hands with these advocates.
Media
Podcasts
Crypto Sapiens picked up where it left off in Season 2, championing the voices of Web3 such as Chase Chapman, host of "On the Other Side". The Podcast Hatchery supported the debut of two new programs this season: Making Bank and Bounty Hunter. Making Bank highlights the projects and personalities of bDAO, including interviews with Perchy and Above Average Joe. Bounty Hunter is about working in Web3, featuring interviews with community builders, DAO contributors, and innovators. It can't be said enough that this documentation of DAO life will have lasting significance.
The Rug
The Rug continued publishing in Season 3, putting its own spin on current events. With headlines like "Frustrated Metaverse Landlord Unsure How to Deal With Indebted Tenant Who Keeps Logging Off", the authors are illuminating humor on the surface but hinting at deeper truths, which is the mark of fine satire. After six issues, Volume #1 of The Rug is complete, and a spicy Volume #2 is on the way next season.
Community Abuzz
Website
The transformation of our website is in step with bDAO's larger vision of being at the forefront of Web3, delivering on the promise of a better way forward. The technology will support full-stack decentralization, a departure from the standard use of a centralized front end. It's an update that promises to explode centralized infrastructure, and it's aptly titled FRAGstack.
New Community Roundtable
With Frogmonkee stepping away from leadership duties in bDAO, including moderating the community call, it made sense to evaluate the current format for the Friday call. It's a standard comment that information is fed to us via a firehouse; we set out to change that. 
The new format is broken down into two sections. The first part is for sharing current events and calls to action, and the second is for an in-depth discussion on larger community topics. This has facilitated nuanced discussions on topics like DAO-wide branding and project management.
IRL at ETHDenver
ETHDenver signaled a return to pre-Covid times of gathering in public spaces and mixing the virtual world with in person. BanklessDAO played a key role in both the organization and the programming of DAODenver, with strong brand visibility on the floor, including the wares of Ultrasound Merch on display. The success of this gathering bodes well for future Web3 forums, such as Permissionless in May. 
International Media Nodes (IMNs)
The Bankless message is spreading across borders as projects like IMN reframe our narrative, giving ownership to communities that are not native English speakers. The initial way to share content was to translate existing materials from English to the native language, but this failed to expand our reach. The innovation that stuck was for nodes to produce content relevant to their region in their native language. 
The nodes are successfully creating material that is relevant to its region but is also in line with the bDAO ethos. The promise of Web3 is that diversity and inclusion is built into the framework, and by welcoming voices from different countries we are removing barriers that we unknowingly propagate. Non-English speaking communities are now building the future of Web3 across the globe.
Bankless Abroad
Bankless Africa, Bankless Brasil, and Bankless Sweden all succeeded in spreading Bankless culture this past season.
Bankless Africa launched their podcast, highlighting projects, ecosystems, and people making an impact and driving crypto adoption across Africa. Bankless Brasil made news with the release of their NFT project Odyssey, a collaboration with Zsolt Kosa. Bankless Sweden celebrated a very successful partnership with the Stockholm School of Economics resulting in Sweden's first Metaverse NFT exhibition.
DAOHeat
DAOHeat launched a contest to reward the hottest writing and design, accepting submissions under the theme "Rise of DAO Culture". The first step was to reward written content, which went to MinaHasNoIdea. Then Kavishsethi_ won the design competition. These two received a BANK prize in addition to proceeds from the NFT sale. Their collaboration will live on forever as a minted NFT, and bDAO enjoyed the benefits of having members working across guilds.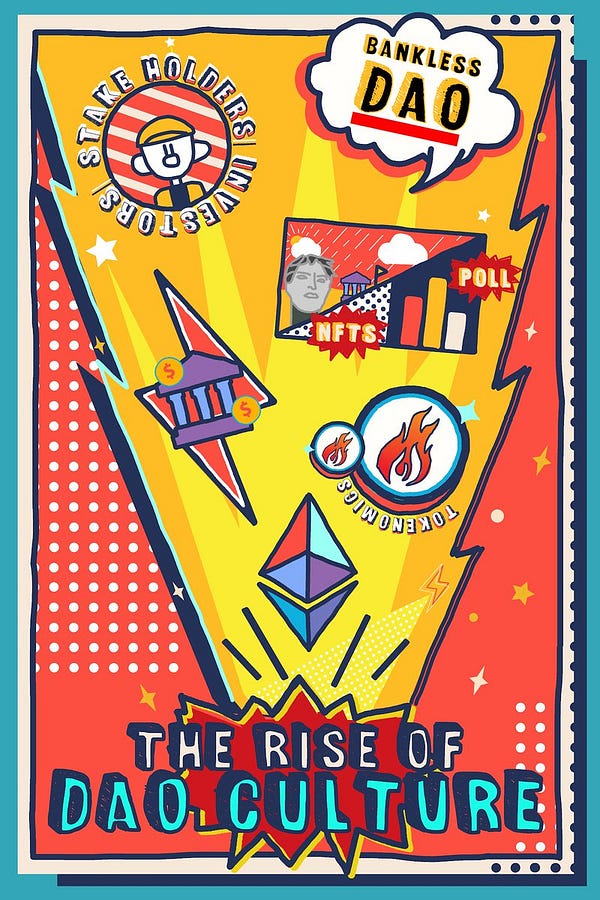 papyboo.eth #181 ♨️
@davidbm
Got one! ❤ https://t.co/LeEZwuldeD
CitaDAO Airdrop
BanklessDAO's privileged position as a Web3 leader means that we get approached to work collaboratively with innovative projects such as CitaDAO. Their work is in tokenizing real estate, with their first attempt being a commercial property in Cardiff, Wales. 
They welcomed our community by inviting our participation in their launch and rewarding L1 and L2 members with an airdrop of KNIGHT (their governance token).
BFF Bracelet Giveaway
BanklessDAO members were also eligible for the BFF Bracelet giveaway. BFF's community helps women and nonbinary friends get educated, connected, and rewarded in all things crypto. The bracelets grant priority access to NFT drops in partnership with emerging artists.
Summary
With governance and tokenomics primed, the bDAO engine is tuned up and we are ready to bust out of the bear market in Season 4 and retain our title as the Metaverse's DAO to watch. Projects are starting to generate revenue, and new creations are launched weekly. Season 4 is going to be the best one yet. LFG!
---
🙏 Thanks to Our Sponsor
CitaDAO is a decentralized finance (DeFi) platform, allowing real estate to be tokenized on chain. The ERC-20 tokens will be composable with other DeFi applications and primitives that operate within the Ethereum protocol, creating an ecosystem for real estate in the DeFi ecosystem.
👉 Follow us on Twitter
👉 Join us on Discord
---