Discover more from Bankless Publishing
Top-shelf educational web3 content.
Over 20,000 subscribers
Remove the Quorum | BanklessDAO Weekly Rollup
Catch Up With What Happened This Week in BanklessDAO
Dear Bankless Nation 🏴,
It's time to vote! If you're not sure why, read on as siddhearta gives a thorough and compelling explanation for the current snapshot vote to rescind the quorum. Participation in governance is a vital part of being a BanklessDAO citizen, and there has never been a more important time for your vote to be counted.
Did you hear? ETHDenver is in full swing and the folks at Ultrasound Merch have a booth full of goodies. Congratulations to them on their soft launch! Bridging NFTs and IRL swag, the team is bringing the thunder!
If you're looking for a job in crypto, BanklessDAO and KeeperDAO are partnering up to get you paid! With every successful new hire referred by BanklessDAO, we strengthen our treasury and improve the value of BANK.
Please remember to vote, buy some merch, read a few Medium articles, and have a fabulous weekend!
Contributors: teeLEROO, Jake and Stake, siddhearta, Trewkat, tigress, borisSchickedanz.eth, hirokennelly.eth, BogDragonov, d0wnlore, Dippudo
---
---
This is the official newsletter of BanklessDAO. To unsubscribe, edit your settings.
---
🙏 Thanks to our sponsor:
---
🗓 Weekly Recap
BanklessDAO Weekly NFT Showcase 🔥
🧑‍🎨 Artist: @JENeticsDesign
🏦 Auction Type: Open edition
💰 Price: 0.03 ETH
Old world sailors tattooed HOLD FAST on their knuckles; their steadfast will to "hold fast" was often the only thing that stood between riding out the storm and the chaos of the sea. Likewise, we HODL Fast in our turbulent DeFi seas.
Community Highlights
The Ultrasound Merch soft launch is live! UltraSound Merch is a decentralized, crypto-native, Web3 fully-integrated apparel company. They will help you get top-quality, custom swag in the hands of your crypto community. Ultrasound Merch offers the whole gamut of professional printing and embellishments and will always have your designs available, with no overhead or risk to you.
If you're interested in creating merch for your project, let the team know here! Otherwise, become an artist or join the community. 💪🏽
🚀 BanklessDAO at ETHDenver
ETHDenver is a member-owned Community Innovation Festival. Follow the ETHDenver Twitch stream or Twitter to stay up-to-date on Web3's hottest news. You'll be sure to come across some of bDAO's own in the programming for this event that runs from February 11-20, 2022.
🏔 DAODenver
And while ETHDenver is in full swing, let us not forget about DAODenver. While it's now concluded, many BanklessDAO contributors were on stage! Be sure to watch their presentations on their website or on Twitter!

What's New
This episode of Crypto Sapiens features graadient, founder of GRO Protocol. We discuss his journey into Web3, starting at Spotify, to Revolut, and then creating Gro Protocol. We compare TradFi and DeFi including deposit protection and insurance, while exploring the innovative strategies available on Gro such as VAULT, a leveraged stablecoin yield optimizer that takes on the risk on behalf of the lower risk vault, the PoWeReD savings product.
Introducing Making Bank!! A new show from the BanklessDAO Podcast Hatchery. Making Bank is a show for BanklessDAO, by BanklessDAO, where each week we highlight a project and a personality from inside the DAO. We want to showcase the work that we do and the people who do it.
Would you like to be a guest on the internal podcast?  Would you like to interview another BanklessDAO member? We want to hear your story, and more importantly, your fellow members want to hear it too! Click here to get started!
🛫 Claim Your Web3 Meritverse Profile and Earn Points for an Airdrop!
DAOs are the future of work, looking to solve many of the problems that plague traditional jobs. We're all DAOpunks. We're all equal. No discrimination based on age, gender, or race. The community decides how we organize and what we build. We are compensated based purely on merit and the value we create.
The impact and the value you bring to the Web3 ecosystem can be hard to measure. That's why BanklessDAO is excited to partner with Meritverse, a Web3 professional network that allows you to showcase your skills and contributions across every community you're active in. By combining off-chain data with verifiable on-chain data, Meritverse is integrating  reputation and digital identity with the future of work.
BanklessDAO is using its prominent position in the Web3 community to help launch Meritverse to the moon. We believe they will play an important role in the future, and we want to help get them there. We've worked out a referral-rewards structure. When you claim your profile on Meritverse, you receive a unique referral URL. If you share that URL with a friend and they also claim their profile, you will receive points. Members will receive a future airdrop based on the number of points they accumulate. Web3 partnerships are written in tokens. That's why for every BanklessDAO member that refers a friend, the BanklessDAO treasury will also be rewarded with points towards the airdrop!
We've invested in the success of Meritverse by creating a small team to help advise them, led by ManuelMaccou and Bo. These two members are especially active in BanklessDAO and are well aware of the opportunities a Web3 professional network creates. They also understand the needs BanklessDAO has for this Web3 native platform, and will help guide Meritverse with applicable use cases.
You can claim your Meritverse profile now and you'll definitely want to share your URL with all your Web3 frens.
Get Involved
👕 JUST DAO IT Hoodie Release
Are you interested in showing your DAOpunk spirit? Just released: the JUST DAO IT hoodie. Get your favorite wardrobe essential featuring a chenille GM patch on the sleeve cuff, JUST DAO IT front print, DAOpunks script sleeve print, custom hand painted tie-dye, and contract address back print. As an Easter egg bonus, a lucky punk will receive a hoodie with a token# for the back print instead of our contract address, redeemable for this DAOpunk NFT.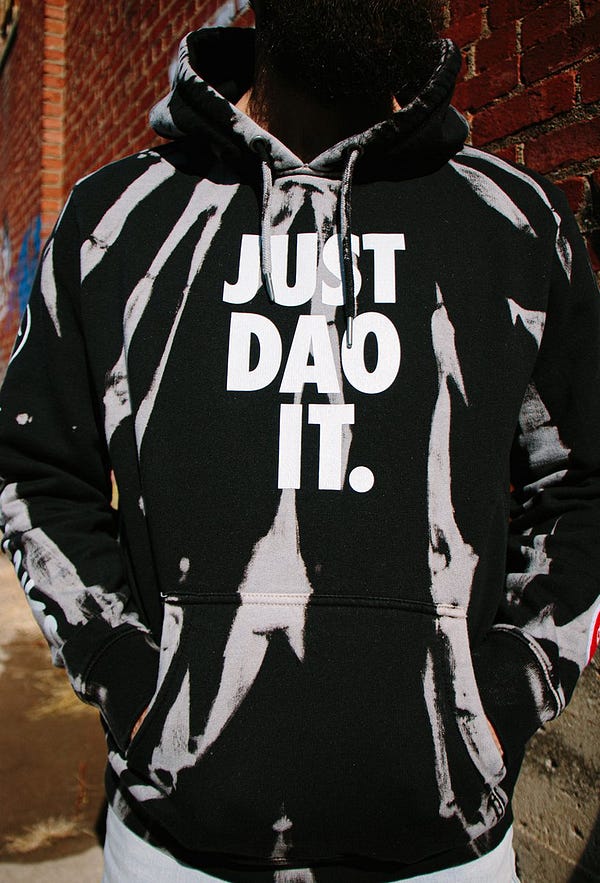 ⚡️ Revisit the Genesis Proposal
Have you ever read the snapshot proposal for the launch of bDAO? Read about the underpinnings of our relationship with BanklessHQ including the vesting schedule and the volume of BANK in play. The DAO is nearly a year old so it's worth revisiting the earliest moments for reflection and consideration of future opportunities.
Get a job in crypto! Do you like solving hard problems, care about building more efficient markets for everybody, and want to work at the frontier of decentralized finance? KeeperDAO is looking for full time contributors, with salaries ranging from $169,000-$722,000. There are positions ranging from engineering, recruiting, product marketing, copywriting, and design. Sound interesting? Sign up for our referral program and go full-time DAO.
🔥 DAO Heat Winners
DAO Heat is collaborative contest featuring the hottest writing and design. The contest involves two stages: writing followed by design. After the winning design is chosen, it will be minted into a limited edition collection of 50 NFTs.
The Writing Contest ended on February 9, 2022 and the winners have been chosen.
First Prize: MinaHasNoldea

Second Prize: Quietfox

Third Prize: sharplyme
Now that the Writing Contest has finished, stay tuned for the next stage; the Design Contest kicks off on February 21, 2022.
🧑‍🏫 Basic Instructional Design Workshop
Anyone can be an educator. Part of the Education Guild's mission is to provide the resources to help support and develop educators across the entire DAO.
This 2-day workshop is for anyone who is planning or designing an educational product. Participate to develop your skills as an educator, learn about new ways to impact your audience, and develop stronger educational resources.
All are welcome! RSVP now.
---
🙏 Sponsor: Balancer.fi — Automated Portfolio Manager and Trading Platform.
---
Remove the Quorum
Author: siddhearta
On the journey west, sometimes you find yourself at a great divide or an unclimbable pass. In those situations, it's best to assess where you came from, to backtrack a little bit, and then try to find another route. Failure when way-finding only happens when you stop exploring the current circumstances in which you find yourself, and start to believe that there can only be one way forward.
Today, it might seem like we have failed in some way. We are facing real challenges regarding strategic prioritization and contributor alignment, and we don't have clear solutions to the problems that lie before us. Our plan for Season 3 was to have a dedicated team of Governance Solutions Engineers (GSE) working to design solutions to these problems, but we have failed to make any progress because we have come up against the quorum requirements we set at the end of Season 2. Despite overwhelming support for the GSE program in the forum and on snapshot, the program failed to meet quorum and the DAO is in a holding pattern until we figure out what to do next.
It is easy to feel as though we're stuck and our options are limited. But that is not the case. We just need to remember how we got here, retrace our steps, and then set off in a new direction.
How Did We Get Here? A Brief History
Our story begins in October with the Olympus Pro snapshot proposal and community concerns about the tokenomics of BANK. Olympus Pro was first formally discussed on October 1 during the inaugural tokenomics discussion, in which the group was exploring ways to increase the utility of the BANK token. Two weeks later, on October 14, the Olympus Pro proposal was posted in the forum, where it received 85 votes, 80% of those in favor. After the proposal was in the forum for the required seven days and had reached the minimum number of forum poll votes (30), it was moved to snapshot and voting started on October 25. In snapshot, the proposal received 435 votes for a total of 30.7M BANK, with 78.23% in favor of the proposal.
This snapshot result represents the largest ever divide in bDAO community sentiment for any proposal, with more than 20% voting against the initiative. Many members were upset by the speed with which the proposal went through and the lack of education for DAO members, given its significance to BANK tokenomics. Prior to the Olympus Pro proposal, the largest percentage of members voting against a snapshot proposal was 2.66% for the Balancer liquidity mining program.
The Olympus Pro snapshot result raised the question: what is the minimum number of voters that must vote for a proposal in order for it to be enacted?
Prior to Season 3, BanklessDAO had no quorum requirements and required a simple majority to pass. No quorum requirement meant that we didn't have to meet a minimum voter participation requirement for proposals to be passed. The result of this was that all proposals that reached snapshot were enacted, because they had already gained soft consensus through the forum. This included snapshot proposals with very low voter turnout, like the Request for funds for Notion's ongoing subscription and the Season 1 Grants Committee ratification, where voting power was 5M and 10M BANK respectively.
The controversy over the Olympus Pro snapshot forced the DAO to consider whether we wanted to implement a quorum requirement for future snapshot proposals, and if so, to decide what the minimum requirement would be.
In an effort to respond to community sentiment and add legitimacy to our governance process, guidelines for quorum and voting requirements were introduced in the Firming Up Governance proposal. In this proposal, it states that the snapshot quorum requirement was set at the average amount of BANK used to vote between the Season 2 spec and the Firming Up Governance proposal (proposals 10-17 in above image).
Based on the forum discussions, this is the quorum requirement that moved to Snapshot and was subsequently approved; there were 272 votes totaling 16M BANK and 99% in favor:
It is due to this snapshot proposal that we entered Season 3 with a new quorum requirement. We were reacting to community sentiment and attempting to find the best way forward with the data that we had. Our intentions were good, but we chose a path that culminated at an unclimbable pass.
Enter the Quorum
Quorum requirements are a good thing. DAOs are open source communities that rely on the decentralized nature of blockchains to make and enforce decisions. Part of the value of tokens is that token holders can make decisions in the organization by creating proposals and voting on governance rules and structures through soft and hard consensus mechanisms. Soft consensus is the off-chain voting that happens in the forum — one person equals one vote. Hard consensus happens with voting tools like Snapshot; token holders cast votes which are weighted by the number of tokens they hold.
A quorum requirement ensures that a minimum number of community members have voted for the proposal and thus establishes a standard for legitimacy. As DAOs are community-run organizations, it is very important to establish the legitimacy of the process and the legitimacy of participation.
Confirming the legitimacy of the process means that the outcomes are more likely to be accepted. The DAO establishes a process for decision making, that process is executed, and the decisions are honored.
Establishing legitimacy of participation is key: when people have the opportunity to choose a particular outcome, they are more likely to consider it legitimate regardless of the actual result. DAO members cast their votes for a proposal, and accept the results because the members were allowed to vote on the decision.
"Legitimacy appears wherever there is coordination, and coordination is everywhere." – Vitalik Buterin
The decision to institute a quorum is a decision to add legitimacy to the coordination layer of the community. A quorum requirement for forum proposals sets a minimum threshold for community support, which mitigates the risk of poorly aligned initiatives reaching snapshot. A quorum for snapshot proposals prevents a situation in which a few power players dominate the decision-making process and ensures that the wider community is engaged and supportive of the initiative. But if you choose to set a quorum, how do you decide the appropriate number?
The Firming Up Governance proposal set the quorum limit based on the average amount of BANK used to vote from proposals 10-17 in the table above, and arrived at 36.84M BANK (the math doesn't check out but that is another issue). If instead we had taken the average of all snapshot votes up to the end of Season 2 when the quorum was set, the figure would have been 27.5M BANK.
But averages are not necessarily a good statistic for establishing a minimum requirement, because it allows for no deviation from the mean, the result being that nearly half of all existing proposals would have failed such a quorum requirement.
What if we use the average number of votes per snapshot (482), multiplied by the average amount of BANK held per token holder (33k BANK)? That calculation would have set the minimum threshold for snapshot votes at 15.9M BANK. Is that a better number to use as a quorum requirement?
These are difficult questions to answer. This is one of the reasons that the Governance Solutions Engineer program was created: to give DAO members the space and time needed to think through these types of decisions.
You can see how we arrived at these decisions, as well as the many assumptions made along the way. A seemingly simple decision, like using the average votes, can have dramatic consequences on the functional processes of the DAO. The reality is that despite our good intentions to add legitimacy to our voting process through the establishment of quorum, we now find ourselves in a position where we are not able to generate the required number of votes needed.
Why Haven't We Been Reaching Quorum?
One of the reasons that we haven't been reaching quorum is the dataset we used to set the minimum threshold. Voter apathy caused by fatigue and lack of knowledge is another.
Low voter participation is common in DAOs. Despite the excitement and allure of a decentralized community-run organization, the reality is that many people don't understand governance and the importance of active participation in the decision-making process. Movement and change happen in DAOs based on decision-making, via the soft and hard consensus mechanisms we have been discussing.
Voter fatigue is real. It takes a lot of time and attention (scarce resources) to stay on top of the forum proposals. Despite the size of BanklessDAO, currently over 20k Discord members, we regularly see 30-80 votes on forum proposals and only a couple of dozen comments.
Even if you have time to read the forum, lack of contextual knowledge can make it difficult to understand the significance of the vote. This was one of the main complaints about the Olympus Pro proposal, tokenomics being outside the purview of most DAO members. If you don't understand the proposal, should you just vote with the majority, or not vote at all? Your vote matters, so you should ensure it is an informed vote based on more than the prevailing views. Having a sensible quorum in place means that it becomes evident when a proposal is not clear to the community because they abstain from voting and quorum won't be met.
For the current quorum requirement, we overestimated voter participation based on a limited data sample. A quick glance at the proposals that have been passed since the Firming Up Governance proposal reveals that none of the snapshot proposals have met the quorum requirements since it was enacted. Collectively, we have set a minimum threshold that is outside our reach.
What Do We Do Now?
We all vote! The DAO has already reached soft consensus to remove the quorum requirement with 92% in favor. The formal proposal is now in snapshot and must itself meet the quorum requirement of 36.4M BANK to be enacted. Now is the time to put your BANK to work, and vote on this critical proposal.
---
❤️ Contributor Care
How Ready Am I?
Authors: tigress, borisSchickedanz.eth
Readiness is the key to a creative and productive day. Being productive in a DAO usually means doing lots of mental work. This means we are focused on our thoughts all day long, basically stuck in our brains.
"Well, of course I am focused on my thoughts! How would I otherwise do all the work that needs to be done?" you may say.
As we described in earlier posts, there are many aspects to our overall readiness, mental fitness only being one of them. We can't isolate one aspect of readiness, because all aspects influence each other — which is the reason why we chose a circular-ish, loop-type symbol as the visual representation:
If we look at our own "being-ness", we can spot a similar loop:
Our mental capacity is influenced by our emotional state, by our physical state, and by our spiritual state. We'd like to call the states "buckets of readiness". If one of these buckets is too empty or too full or even over-spilling, it will nudge our overall system out of balance.
If the system is out of balance, the loop turns into a downward spiral slowly draining our readiness buckets until burned out
We need to stop this! What we want is to create an upward spiral, which keeps the buckets balanced.
Here is how we can check out readiness buckets:
Take a moment to sit back, pause and relax. Detach from your thinkingness. Then feel into all aspects of your being:
Physical: How does my body feel? Try to scan each part of your body and take notice of any sensations: is it warm, cold? Relaxed or tense? Tingling?

Emotional: What am I feeling right now? Is there anger, sadness, shame, courage, joy, or do I feel neutral?

Spiritual: How is my spiritual readiness? Do I feel needed, do I see my purpose and the purpose of the work I am doing?

Mental: Is my mind foggy or clear?
Just by paying attention to all aspects of our being, we already raise our readiness.
When we ask ourselves these questions, we will get a list of items describing the content of your readiness buckets. From this list, we can easily identify those buckets which need our attention – maybe the body needs a workout, or a relaxation. Maybe it needs some healthy food, or less caffeine. Our spiritual bucket might want to be filled with a deeper connection to nature, to people (don't forget we are social beings and need to be physically close to others at times). Or maybe we just need to get another hour of sleep.
Improving one aspect, especially those empty or too full / over-spilling  buckets, will help to restore balance in all other buckets as well — and once we have them all balanced out, we get an additional creativity and productivity bonus on our scale of readiness!
How ready are you today? Can you give a score from 1 (not ready at all) to 10 (very high readiness) for each bucket of readiness? What's your overall score?
Your readiness buckets:
🧺 Physical (body)
🧺 Emotional
🧺 Mental
🧺 Spiritual
🧺 Overall readiness
Now identify the bucket with your lowest score. What can you do to raise this score by one or two points, and therefore contribute to restoring balance in your whole system?
Tell us about your scores in the #mental-health-support channel! You can get a lot of inspiration there on how to spiral upwards as well. 😄
---
🎣 Phishing School
Authors: BogDragonov, d0wnlore
Staying Safe While Traveling
With the pandemic receding, again, opportunities to meet new and old friends at meetups and conferences are available to us. Many of you are making good on this opportunity being at ETHDenver right now.
Here are some tips to follow so you can stay safe during your travels. This is also a good test of the results from the threat modeling exercise you may have done from the last Weekly Rollup. Not all of these tips are necessary, so knowing your threat model is a great way to weigh the pros and cons of each tip against your circumstances.
The following are practices that everyone should be following, regardless of their threat model:
Do not post photos of your boarding pass online. Other than the personal and booking information printed on these, they also have a barcode containing information that can assist a bad actor in social engineering attacks targeting your airline loyalty account. I know a few people that have had fraudulent loyalty points bookings made through their accounts after they posted their boarding passes on Instagram.

Do not let important documents and devices out of your sight, such as your passport, cellphone or laptop. Always be aware of who has them and what is being done with them. For example, when checking into a hotel, is the front desk trying to make a photocopy of your passport when they only need to retain some information for their records?

Do not carry hotel keycards in the envelope with your room number on it. If you lose your hotel key card let the hotel staff know immediately so that they can deactivate the old card and issue you a new one.

Update all your devices and apps before departure so that these are less vulnerable to exploits while traveling. It may be less convenient for you to update these while on the go.

When working in places such as a hotel lobby or cafe, be mindful of ways that you can be eavesdropped on by people, mirrors and cameras near you. Reposition yourself or leave the area if it feels like you are leaking information to people or devices around you.
The following should be done depending on your threat model, as they may be inconvenient and not worth the cost to implement if your risk profile is relatively low:
If you need to share specific information about your trip with friends, such as where you are staying and when you are arriving, do so through private channels and not anywhere that can be accessed by strangers. Token-gated public channels on Discord are not a sufficient deterrent for this. General information like what city you are going to is OK depending on your threat model, otherwise share information under a need-to-know basis.

Have information, such as where you are staying and your important contacts, printed out so you do not need to pull out your phone to reference them.

If you do not need an app while traveling, uninstall it and remove the associated data from your devices if possible. Reinstall them once you're back. This avoids issues in case your device is stolen or checked at a border crossing.

Do not wear clothes or accessories that advertise your company, especially if they are well known, a government organization, or are receiving negative media attention.

Use self-check-in and mobile door unlocking for hotels when possible. If you are trying to conceal your presence this helps avoid situations where the concierge and other hotel staff will say your name and details about your stay within earshot of others.

Consider purchasing a portable door lock. This is not only a good deterrent to criminals trying to break into your room, but also to cleaning staff not noticing the "Do Not Disturb" sign or if that accidentally gets removed.

Carry electrical tape with you and cover any areas that may be used to spy on you, such as in-door viewers that have no cover.

A hotel safe may not protect your belongings due to their rudimentary lock mechanisms and hotel staff having access to them. But they do introduce a time penalty to those that may try to steal from your room. Weigh the pros and cons of using them.

Limit use of public WiFi networks and use a VPN if you do use them. Hopefully most websites and apps you use will use encrypted traffic and protect the data you are sending, but a VPN will protect you in the cases where that doesn't happen.
---
🏛 Governance
🚨 Snapshot Proposals
Quorum Removal Vote: The quorum requirement was set so high that it was never reached post implementation. Please cast your vote to determine whether we should eliminate this requirement while the DAO considers its options.
Proposals in Discussion
The DAO Dash team has been using Coordinape data to spark insights about the BanklessDAO community and organizational health. However, Coordinape data is not fully available to the DAO Dash team. To get a full picture of this data, the DAO Dash team is looking for BanklessDAO members who have administered a Coordinape round for their respective Guild, Project, or any other initiatives to contact them and help create a full understanding of our community.
If this sounds like you or someone you know, please leave a comment on the forum post, DM either Paul (paul_apivat #3817) or McKethanor (McKethanor #7319), or stop by the #dao-dash-channel to help improve BanklessDAO analytics!
BanklessDAO is electing a new member in the Ombudsperson Office to top up the five person team. The Office is structured to confidentially address conflicts arising within bDAO. If interested, reply to the post with information on your background and motivation.
---
✅ 
Action Items
🗳 Vote on the remove the quorum requirement snapshot!
🎙 Listen to Making Bank: Episode 1 on Spotify, a release from bDAO Podcast Hatchery.
📖 Check out who received the GIVE from the past round of Coordinape.
🧑‍⚖️ Apply to open Ombuds position and get in touch with Coordinape admin.
🏃‍♀️ Catch up: Review this week's Community Call notes or listen to the recording.
---
🙏 Thanks to our sponsor
Balancer is a flexible and versatile Automated Market Maker that enables efficient trading and the exchange of any combination of ERC-20 tokens permissionlessly.
Balancer also turns the concept of an Index Fund on its head: instead of paying fees to Portfolio Managers, you can now collect fees from traders who rebalance your portfolio by following arbitrage opportunities.
The Balancer Protocol is a core building block of DeFi infrastructure — a unique financial primitive and development platform.
Try us now:
---
🤣 Meme of the Week