Decentralized Arts #10 | October 25
BanklessDAO Weekly NFT and Cryptoart Newsletter
Dear Bankless Nation,
This week we are addressing a social issue that affects the world of NFTs and cryptoart: the issue of equality and equal opportunities for everyone to access this world.
It is a theme that is not limited to cryptoart, but extends to many other crypto areas: is the availability to access the internet and the crypto world equal for everyone? Are the costs of access and use fair all over the world? Is access to the membership of some DAOs, linked to tokens that are often increasingly expensive, fair? Can educational tools useful for understanding and operating in crypto reach every corner of the world?
These are questions that many people face daily; without a solution, we cannot claim to have built a fairer world, or at least a fairer ecosystem.
Welcome to Decentralized Arts.
Authors: BanklessDAO Writers Guild (Grendel, Kouros, nonsensetwice)
---
---
This is the official newsletter of the BanklessDAO. You are subscribed to this newsletter because you were a Premium Member of the Bankless Newsletter as of May 1, 2021. To unsubscribe, edit your settings here.
---
---
Artist of the Week
🧑‍🎨 Artist and artworks from Umba Daima creative agency:
🏦 Auction Type: Open editions
💰 Price: 0.02 ETH
Umba Daima is curating creative projects through our brands, partnerships, and communities with the vision of creating equity through art.
bDAO: How was the team formed?
UD: Umba Daima was co-founded by Iris Nevins and Omar Desire. They were initially inspired by Black artists in Africa and created an e-commerce store to help bring African art to the U.S. market. They eventually learned about NFTs and started doing community building work. Along the way, various likeminded people have come together to support their mission of creating equity through art.
bDAO: Can you describe the current NFT scenario and the problems you have identified?
UD: Inequality is not always insidious. We believe that Black artists are limited by their networks and the lack of Black collectors in the NFT space. Many people who would love their art just aren't seeing it or aren't even in the NFT space to begin with. It's important that organizations who provide visibility to artists are doing that for many kinds of artists with different backgrounds and styles.
bDAO: How can NFTs help the cause of equality?
UD: Inequality in the United States & around the world is largely rooted in wealth inequality. Lack of resources equates to lack of power. NFTs provide a really profound way for Black and other disadvantaged communities to build and circulate wealth, which means more empowerment and strength to resist oppression.
bDAO: How does your curation process work?
UD: When we curate projects we try to identify promising artists who have shown a strong commitment and consistency in NFTs. From there we try to select artists or artworks whose styles are uniquely distinct from each other & bring something interesting to the theme/project.
bDAO: Can you tell us your idea about the relationship between NFTs and DAOs?
UD: DAOs are an interesting way to organize communities that share common interests. The NFT space is so community driven and innovative that it's natural for people to want to try innovative governance systems too!
bDAO: What do you think of the DAO space and how can these help the causes you are pursuing?
UD: DAOs have the potential to scale well and achieve a lot if it's set up and managed well. The risk is that without a strong core group that is committed to the work and collaborates well, it can easily become a small number of members who are doing most of the work to maintain the community. So we have contemplated if implementing a DAO might be useful in the future but right now we're mainly learning and observing.
---
Curated NFT News
Sotheby's Launches an NFT-Only Marketplace
Sotheby's is the first traditional auction house to launch its own dedicated NFT marketplace, called Sotheby's Metaverse.
This new platform launched last week with a collection called "Natively Digital 1.2: The Collectors."  This collection features 53 works form 19 different collectors, and includes pieces from the Bored Ape Yacht Club and Kevin Abosch amongst others.
The auction house plans to run a Natively Digital sale once or twice a year making it its flagship NFT auction. The first iteration was held in June and this second installment of Sotheby's "Natively Digital" sale will run until October 26th.
The platform has a similar format to other NFT marketplaces, like OpenSea, but it also offers information about the significance of each piece as well as the artist's biography. Michael Bouhanna, co-head of Sotheby's Digital Sales, added: "We wanted to have a very diverse sale in terms of category but also in terms of price point, we wanted collectibles, gaming NFTs, early NFTs from 2015, 2016, everything."
The Most Popular NFT Marketplaces Collaborate on the Royalty Registry
Manifold.xyz built the Royalty Registry in collaboration with Nifty Gateway, Foundation, OpenSea, Rarible, and SuperRare.
The goal of the Royalty Registry is:
Simplify the use of on-chain royalties by marketplaces

Add on-chain royalties to contracts that didn't originally support them
The Royalty Engine is a smart contract that helps to verify the presence of royalties linked to NFT contracts, allowing them to be replaced with new ones.
Introducing
royaltyregistry.xyz
- On-chain royalties made simple 🥳 Royalties are a big part of the NFT eco-system, but they can be confusing and painful to manage. We aim to change that today. 1/ Read on for details about our open source and collaborative initiative 🧵👇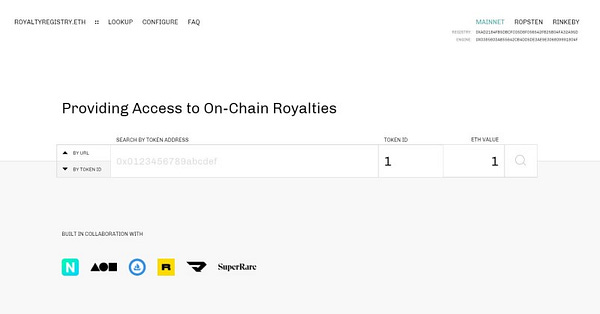 royaltyregistry.eth
Providing Access to On-Chain Royalties
royaltyregistry.xyz
---
NFTs and Equal Opportunities: a Brief Introduction
When we talk about NFTs and cryptoart we refer to concepts such as decentralization, democratization of art, and equal opportunities for all. It is, in fact, known that the growth of the sector has brought to the fore artists from all over the world, often not yet famous in traditional artistic circuits. Some of these artists present themselves with aliases or anonymously, eliminating the possibility of determining their genre and geographical origin as well as any possible prejudice. Next to these appear artists who reveal their identity, showing effectively how at first glance there are no barriers to entry into the sector
But is access really that broad and democratic? Many projects, artists, and commentators contest this claim and what is contested is often linked to specific economic and/or socio-cultural issues.
The increase in the price of ETH, as well as the increase in fees, have acted as a brake on the possibility for many artists to be able to enter the sector. The costs of creating one's own smart contract as well as the costs of minting, even using third-party smart contracts, have often reached levels such as to discourage those who want to start publishing their works, especially, but not only, in less affluent countries.
This problem has often been combined with the difficulty of many in accessing information, computer knowledge, or computer tools that could allow artists to start working in cryptoart.
In response to these problems, numerous initiatives and projects have arisen, which we have chosen to address in the same issue in which we present the Umba Daima artists in the BanklessDAO NFT sale.
The world of cryptoart today offers us the opportunity to learn about interesting projects aimed at promoting equity through art. One of the most interesting examples is Umba Daima, a creative agency made up of black and African artists engaged in cinema, music, and digital art.
Umba Daima engages communities in the NFT world, providing the tools to build culture, wealth, and equity in art and cryptocurrencies as the art world relentlessly reworks its relationship and definition of race and gender, and it is necessary to encourage open dialogue on intersectionality within the art market. It is also necessary to question the superimposition of different social identities and the relative discrimination, oppression, or domination.
At the end of September, Christies announced a collaboration with Dread Scott, co-founder and CEO of Umba Daima. The "NFTs, Race, and the Art Market" panel was the first in a series of round tables on social engagement and the art market, organized through his academic institution, Christie's Education.
Another example of focus on a fair and careful market is The Queenly NFT, an ethical crypto gallery project that aims to fairly regulate the relationship between the queer artist and the collector. For The Queenly NFT, ethical NFT means that the patron community around queer art is invested in consent, credit, and compensation. All NFTs sold have reciprocal agreements with content creators. Queer-positive charities will also receive a donation for every sale of a collection.
Maliha Abidi, artist, writer, and activist, can also show this path. This visual artist uses her NFT creations for her "Women Rise" project in defense of women's rights.

And WE ARE LIVE!!! Head over to
womenrise.art
to check out the project and the road map! Tag your NFT buddies who you'd like to invite to the
#WomenRiseNFT
family 🥰✨ Join our discord:
discord.com/invite/X5Ut9u7…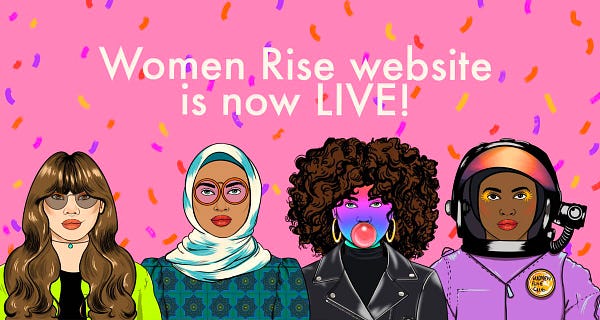 "Women Rise" is a collection of 10,000 randomly generated and unique NFT art pieces, representing women from around the world in all divisions. The mission of the project is "to watch women grow on the blockchain." The project will be launched at the end of November this year, on the same day as the United Nations' campaign against gender-based violence scheduled for 25 November. 25% of the proceeds will go to the Malala Fund, while another 10% will go to organizations that support gender equality, girls' education, and mental health in marginalized societies.
Finally we want to present the Earth.org project which is taking place right now in Hong Kong, which is the global platform for environmental news and science and is participating in the city's first sustainable NFT art exhibition, "The Impact NFT Exhibition" at Soho House. The event features NFT artwork created specifically for charities and global impact projects dedicated to achieving the United Nations' 17 Sustainable Development Goals (SDGs), including measures to mitigate climate change.
Advances in technology have increased the ability of artists to create socially impactful works of art.
We have to ask ourselves how the art market could be used as a tool to stimulate social change and support movements for social justice.
---
Anamorphosis-6: Visions For The Blind
by G.Contro
The mirror is almost certainly the most powerful technology that humanity has ever inflicted on itself. Isn't it the definitive forger, the device of supreme inauthenticity, an absolute reproducer and at the same time irremediably fallacious? It is a perfect copying machine, but at the same time a prisoner of optical geometry and can give us back the object it steals only at the price of further mirroring, from surface to surface.
In the mirror we learned about our face, the construction of the self-portrait and the fragile definition of the Self. It is this talent that attracts us—not the fascination he exercised on Athanasius Kircher, on Jean Cocteau, on Carroll, or on Borges, as a matrix of other and parallel universes, but as a terrifying plasma in which the human physiognomy is formed, a cosmogonic artifice that gives substance to this universe.
Along the course of the Loire, in the castle of Villandry, lies, among the superb paintings collected by Henri Carvallo, the seventeenth-century reproduction on canvas of a Philosopher in the mirror, which has the advantage of presenting itself anonymously to the works of Velasquez and Jan van Eyck, clear of its author. The thinker in the painting appears old, tired, paralyzed by a silent dismay. The most infernal - and inexorably secular - of the memento mori. His gaze, however, is inside our gaze; it was created for us to see.
Solitary—and because of it, mysterious—is the enterprise of the sculptor Franz Xavier Messerschmidt. A master appreciated at the court of Maria Theresa of Austria, Franz is a reason of interest even for the most listless documentary makers because some indecipherable Message for the Emperor seems to peep out of his marbles. Around 1774 he retires to private life and packs an unspecified number—sixty-nine or sixty-four, depending on the sources (in any case it seems that just under forty survive)—of marble busts, each of which represents a frame of the human expressive range: the scream (or the yawn?), the pain, the embarrassment, the restrained cheerfulness, the mockery, all frozen in extreme form, not caricatured, but rather purified. It is said of him that he was crazy, that demons were stirring inside him, and that this was a sort of self-therapy.  But what is most striking is the purely technical act that he was able to carry out.
An art made not to appear in front of anyone.
---
Bankless DAO NFT Updates
🖼 Last week's weekly showcase numbers: BanklessDAO's resident cartoonist Perchy made a total of 4.275 ETH in sales with The Citadel NFT from the Bankless Locations collection.
---
🙏
Thanks to our sponsor
Perpetual Protocol empowers developers, liquidity providers and traders to participate in a financial marketplace that is open and accessible to all.
👉 Visit Perpetual Protocol's website to learn more
---
Call to Action
🎭 BanklessDAO NFT weekly showcase: Check out this week's NFT Showcase.
♣️ Participate in the NFT-Club channel: Share your passion for NFTs, your favorite collections, your favorite crypto artists!