Bankless DAO Weekly Rollup #14 | August 6
Dear Bankless Nation,
Another jam-packed week of excitement at the bDAO! Onboard & Education secured a 10K grant from Polygon! The Ultra Sound Bat NFT raked in ~$50K in ETH so far and is trending Top #5 on Rarible. Not to mention, Ultra Sound Summer merch breaks MetaFactory's all-time sales record!
Authors: Bankless DAO Writers Guild (siddhearta, Frank America, frogmonkee)
---
---
This is the official newsletter of the Bankless DAO. If you were a Premium Member of the Bankless Newsletter as of May 1st 2021 you have been subscribed to this newsletter at launch.
To unsubscribe edit your settings here.
---
---
BanklessDAO Weekly NFT Showcase 🔥
🧑‍🎨 Artist: RODRIGO_5*
🏦 Auction Type: Open Auction for 72 hours
💰 Price: 0.1559 ETH
🖼️ Ultra Sound Bat commemorating EIP-1559
If Bitcoin is sound money, Ether will be ultra sound. This artwork, currently trending on Rarible, combines the meme-spreading bat signal 🦇🔊 with the ETH diamond ⟠. It celebrates the activation of fee burn with EIP-1559 as well as the lighthearted yet powerful nature of memetic forces.
The creator, Rodrigo Salcedo Velarca is a multidisciplinary artist born in Guadalajara City, México, and currently lives in Mexico City. He is known for transcending his work through multiple fields with an interdisciplinary focus, working with Fei Protocol and BanklessDAO within the crypto-sphere.
Community Highlights
👚 Womens' MetaFactory Summer Set: You asked, we delivered. You're gonna break necks in these 😍 And yes, you need the whole set! Despite having already breaking the MetaFactory all-time sales record, we've extended the UltraSound Summer set through August 9.
🛌 BED total value locked (TVL) blasts through $2.5 million: This past week $BED TVL increased by over $800K to $2.5M! @Airbayer has created a new dashboard for the Bed Index showing token holders, segmented by DAO membership categories as well as total $BED supply. Are you the whale?! 🐋
💰Onboard earns 10K Grant from Polygon: Onboard continues to make huge strides, this time locking up $10,000 with a Polygon grant. While they are still in discussions on how to govern and disperse grant funds, initial conversations are centered around contests and bounties to trigger engagement and visibility within the DAO. 🚨 Alpha leak: Onboard Alpha is live! Take a look, and provide feedback.
What's New
🎙 Tuesday Talks with Colony: Join us on Tuesday, August 10 at 12pm CT in the Members-only stage for a Crypto Sapiens event hosted by Humpty Calderon. This week we will be joined by Jack du Rose, cofounder of Colony, to discuss on-chain governance, human coordination, and reputation.
📊 💸 Bankless DAO Tipping Economy Dashboard: @paulapivat has created a new dashboard to show the total amount of $BANK supply circulating in our burgeoning tipping economy. We can see the regular deposits, withdrawals and current $BANK balance as DAO members have sent their funds to the CollabLand smart contract for tipping. That's over 17,000 USD just for tips!
Piggybacking off this data, @McKethanor put together a Social Network Graph of tipping activity and @tomahawk put together a Tipping Liquidity Proposalto counteract the decline in tipping velocity in recent weeks.
---
🙏 Sponsor: UMA — Diversifying DAO Treasuries. DAO Better.
---
MetaFactory x BanklessDAO = Creating crypto culture and collective ownership
Culture has values. It is an experience, impacts others, and shapes the current time and place. Culture can shift our posture, influence what people value, and affect what they choose to engage in. Without having to be spoken, culture says, "This is what we do around here."
Fashion plays an important role as a contact point for culture - think about the message that brands like Nike, Gucci, Supreme, and others signal to the world. People care how they look. They care about the impression they leave on other people. With fashion, people wear the values they want to see in the world, embody the messages they are sending, and set a standard to be admired.
The Bankless DAO x MetaFactory collaboration was born out of a desire to perpetuate bankless culture and to increase the surface area that crypto inhabits in the real, physical world.
MetaFactory is a crowdfunding platform for the creation of community-owned brands that sits at the intersection of community, culture, and finance. It is a bridge between digital worlds and physical worlds, curating unique apparel and brand experiences that are designed, curated and owned by the community.
MetaFactory curates and manages brand ownership and a product auction marketplace, as well as handling production and fulfillment on behalf of its partners with a goal of no extra inventory and agile, on-demand production.
When we join communities with others like MetaFactory who share our values, we create and share culture. Outsiders interact with that culture. They see what other people value, how they interact, and what they do. According to what they observe, they can choose to opt-in, or out of that culture.
The culture becomes a contact point for change.
At MetaFactory, artists and creators of all types are invited to create products that promote their art, community, project, or protocol.
"MetaFactory handles the logistics so that the creators can focus on what they do best, make more art."
ICYMI: Triple

@banklessDAO

Drop "In Bankless We Trust" Velvet Wall Tapestry by

@twistedvacancy

"Tattoo" Longsleeve Tee by weseeclearly "Cypherpunks" Tee by
sinjun.art
pays homage to originators of encryption tech.
shop.metafactory.ai
Sale ends Midnight PDT!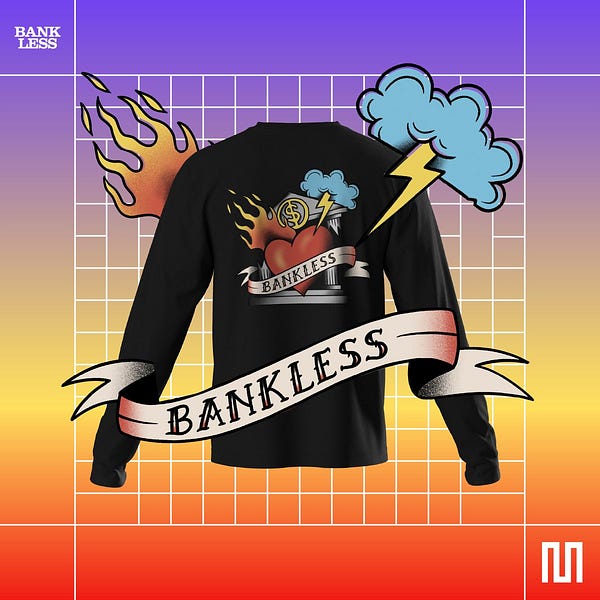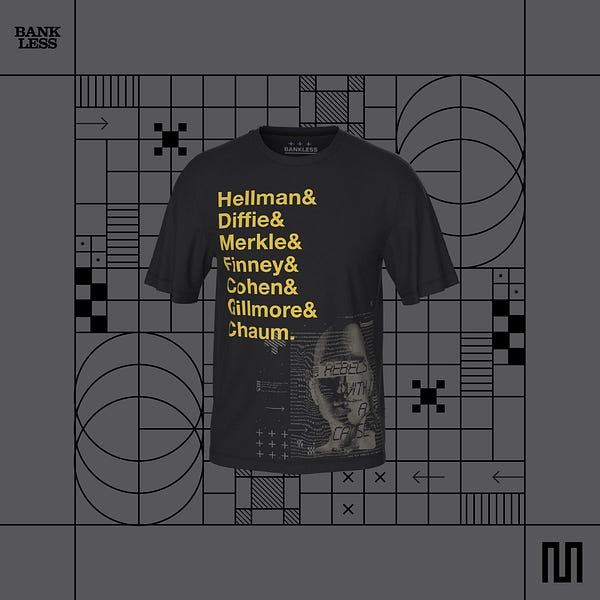 Creating and propagating culture is important, but crypto culture also leverages collectively owned and collaborative communities to promote financial independence and autonomy. The traditional culture of consumerism changes into a culture of ownership.
MetaFactory incentivizes commerce using its own governance token, $ROBOT, as a reward for purchases on the platform. ROBOT enables its community members to decide on token mechanics, reward schedules, partnerships, platform features, treasury use and other critical issues. It is also the vehicle by which value is captured, distributed, earned and shared.
Creators receive ROBOT based on the success of their product(s).

Buyers are rewarded with ROBOT for their support.
In other words, buy some killer Bankless swag and earn ROBOT for yourself and for the BanklessDAO! 💰
Here's the math:
Creators ROBOT rewards = 0.0125 ROBOT per dollar of gross revenue on any given product (minus tax).*

Buyers receive 42% of your purchase value back in ROBOT.*

Value of ROBOT is determined as the average price of ROBOT over the last 4 weeks from the week of purchase.
For example, if you purchased the 👚 Women's Ultra Sound Summer Set for $155.90, you will receive 42% of your purchase ($65.48) denominated in ROBOT 4 weeks after your purchase. The DAO treasury will receive about 1.95 ROBOT (current value of approximately $82) for each purchase. 🔥🔥
This is what it means to be at the intersection of community, culture, and finance. Community ownership creates culture and sharing that culture drives financial freedom.
This formula is groundbreaking. Check out the past ROBOT rewards the BanklessDAO received in June. 🥇 First place is the BanklessDAO treasury with 603 ROBOT and a current value of about $26,000:
Key takeaway: Culture creates opportunities for people to discover communities and projects. It creates ways for people to get involved, and in a collectively owned and collaborative world, it can also build a sense of ownership based on shared financial interests.
Bankless DAO X Metafactory merch drops occur monthly!
Subscribe to the Cryptoculture Newsletter to receive updates.
---
Proposals in Discussion
🗓 End of Season 1 Proposal: This proposal would extend the term of Season 1 from August 31st to September 30th as per the Season 1 spec, giving us more time to organize and execute our seasonal priorities.
⛏️Launch BANK Liquidity Mining on the 80% BANK / 20% WETH Balancer Pool: Own BANK? Earn BANK. Proposed by heavy hitters in the DAO, this proposal creates a liquidity mining program on Balancer.
⚔️ Role-Based Guild Coordination Reorganization: This proposal provides an optional framework for each guild to create four roles: Guilds Organizer, Talent Coordinator, Secretary, and Governance Coordinator that will help better coordinate activity within each guild.
🌊 PoolTogether Bankless DAO Pod: Similar to a group bulk-buying lottery tickets, this proposal would create a BanklessDAO pod in PoolTogether to play as one entrant and share rewards with other DAO members. This is a great opportunity to collaborate with PoolTogetherDAO to build a product with minimal effort for the Bankless DAO that showcases our involvement in DeFi.
Action Items
🔥 Watch the BURN!: It's official, ETH is Ultrasound Money!🦇🔊
🎟 Mt. Doge Raffle: Do you qualify to win "Mt. Doge Ticket #3: The Central Visitor Area."
📞 Contact your Senator: Call your senator with a script to save crypto.
🏃‍♀️ Catch up: Review this week's community call notes for links or listen & watch the recording.
---
🙏Thanks to our sponsor
UMA helps DAOs build products to diversify their treasury. Most DAOs treasuries are imbalanced. By using UMA's range tokens, KPI options, and call/put options, DAOs can prepare their treasury for any market.
👉 Join the #bankless Channel in the UMA Discord.
👉 Tell UMA What DAOs you belong to.
👉 Earn KPI Options. Go to the Discord to learn more.
---
Meme of the Week